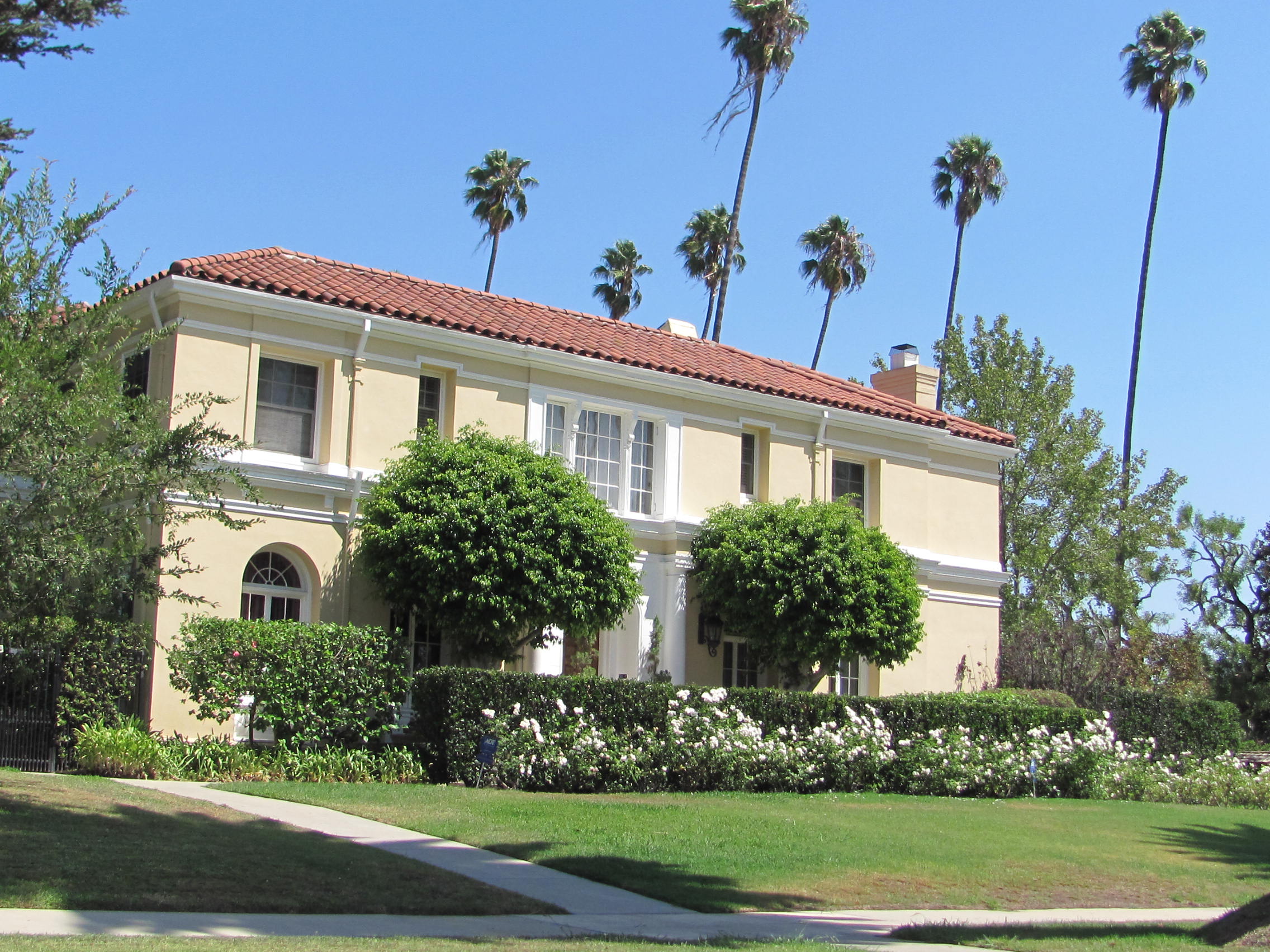 Hancock Park history and activities.  Hancock Park real estate history. Exclusive community in Los Angeles and named, " Old Beverly Hills". This area was developed by Captain G. Allen Hancock at the turn of the 20th century. His father owned Rancho La Brea which was farmland until 1905. Oil was discovered on the land by, Edward Doheny which led to the discovery of the La Brea Tar Pits. Hancock Park homes built mid 1920s and 1930s. Captain Hancock insisted that the houses be set back 50 feet in the lot. Between World War I and World War II saw intense residential and commercial building in Hancock Park. This neighborhood has the largest collection of 20th century European Revival architecture in Los Angeles. Classical English and Tudor Revival, Mediterranean, Colonial Revival, and Spanish style architectural is seen throughout Hancock Park. Paul Williams, A.C. Chisholm, Gordon Kauffman, Wallace Neff and John Austin. These were some of the most influential architects of the time. This neighborhood has spacious classical homes, park like yards and wide mature tree lined streets. All of this approximately fifteen minutes from downtown Los Angeles.Los Angeles mayor's official residence is in Hancock Park overlooking the Wilshire Country Club. Many prominent South land families once or currently reside in Hancock Park. These families include: the Hancock, Doheny, Huntington, Crocker, Van de Kamp, Duque, Banning and Van Nuys families. The sixty-six block area completely surrounds the Wilshire Country Club and the Los Angeles Tennis Club. There are approximately1,200 homes and the area is approximately 2.2 square miles. The general accepted boundaries are Melrose to Wilshire and Highland to Rossmore. Hollywood is north of Hancock Park.
Historical Landmark Awards in Hancock Park and Miracle Mile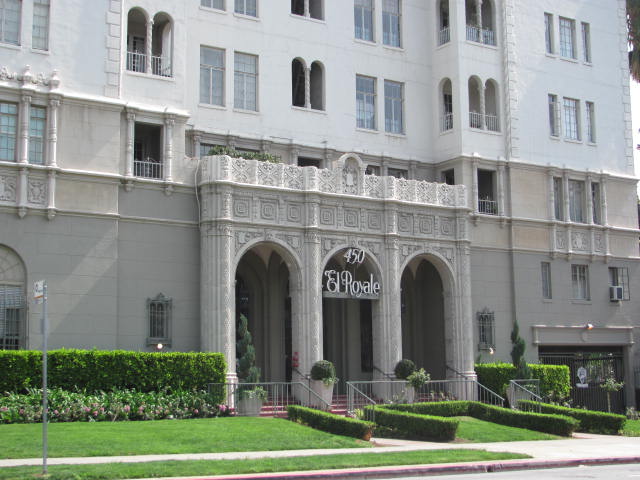 | | | | |
| --- | --- | --- | --- |
| Ebell Theater | 1978 | El Cholo Restaurant | 1991 |
| Ambassador Hotel | 1981 | May Company Building | 1992 |
| Wilshire Country Club | 1982 | George C. Page Museum | 1994 |
| Farmers Market | 1984 | Park La Brea  (Townhouse & Apartments) | 1997 |
| CBS Television City | 1985 | Immanuel  Presbyterian Church | 2002 |
| Paramount Studio Gates | 1987 | Charlie Chaplin Studios | |
Windsor Square-Hancock Park Historical Society founded in 1976.
In 1986 a ban,sponsored by Congressman Henry Waxman prevented tunneling through Hancock Park. The federal ban prevents the Red Line Subway from being routed along Wilshire Boulevard. In 2005 the federal ban was lifted. Proposal Los Angeles Subway line 13.2 miles and costing $4 billion. Named Subway to the Sea.
Hancock Park Homeowners Association Windsor Square
Hancock Park Historical Society
Hancock Park Schools Public School Search. Within the Los Angeles Unified School District (Public Schools)
Hancock Park and Miracle Mile Points of Interests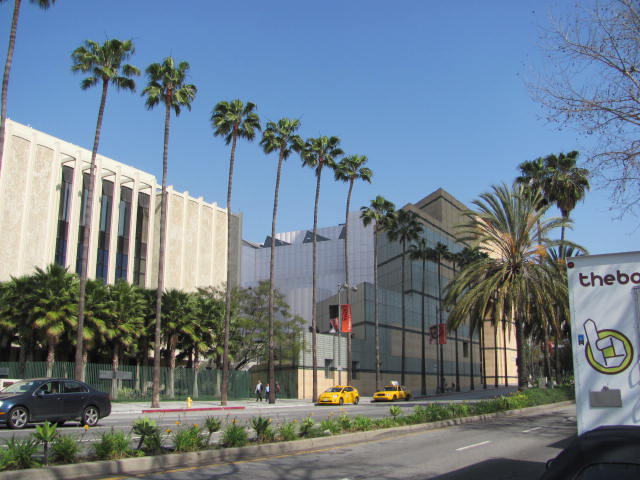 Farmer's Market: Founded in 1934 by, Earl Bill Gilmore. Farmer's Market is a Los Angeles landmark next to CBS studios. Residence and vacationist come for browse, dining and entertainment. There are restaurants from around the world. The one of the original fresh food markets. Daily fresh fruit, vegetables, meat, seafood. 6333 W 3rd St Los Angeles, CA 90036 (323) 933-9211 http://www.farmersmarketla.com
The Grove (next to Farmer's Market) Upscale Shopping Center 189 The Grove Drive Los Angeles, CA 900366 (888) 315-8883 or (323) 900-8080
Los Angeles County Museum of Art: 5905 Wilshire Blvd. Los Angeles, CA 90036 (323) 857-6000 www.lacma.org
Page Museum / La Brea Tar Pits: 5801 Wilshire Blvd. Los Angeles, CA 90036http://www.tarpits.org
Petersen Automotive Museum http://petersen.org/
Pellissier Building (Wiltern Theater) 3780 Wilshire Blvd. Los Angeles, CA
Miracle Mile Resident's Association: Jim O'Sullivan, President 323-934-4627
Windsor Square – Hancock Park Historical Society http://www.wshphs.org/about.html
Adjacent Neighborhoods to Hancock Park Larchmont Village serves as a shopping district to Hancock Park and Windsor Square. Considered a community gather place for both neighborhoods. Paramount Studios is nearby. Larchmont Village offers restaurants, bistros and boutiques. Larchmont Village is between First Street and Beverly Blvd. Larchmont Village is in Windsor Square.
Windsor Square was envisioned by George A. G. Howard and initiated by Robert A. Rowan from 1900 to 1910 Beautiful family homes with a English countryside setting. To enhance the English countryside setting you have names: Irving, Windsor and Plymouth. The square ran from Wilshire Blvd. to Beverly Blvd. and Arden Blvd. to Van Ness Ave. Hancock Park is to the immediate west of Windsor Square. One of the oldest and historically preserved communities in Los Angeles, California.