Latin Lover Did It Start with Rudolph Valentino? Don Juan (Spanish) or Don Giovanni (Italian). Play, The Trickster of Seville and the Stone Guest by Tirso. Published in Spain 1600s. Character seductive, Don Juan portrayed as wealthy libertine. His life's ambitions were to seduction of women. Don Juan did not discriminate he pursued women of all ages and stations in life. My research indicates that this is when the term "Latin Lover" began. Visually, a Latin Lover would be masculine, gorgeous, with golden skin, dark romantic eyes, eyes hooded with long eyelashes, full firm lips and dark hair. Romantic mystic heightened with ethic accent. Hollywood has had a range of Latin Lovers from the 1920s to current.
Rudolph Valentino Hollywood Latin Lovers:
Latin Lover Did It Start with Rudolph Valentino? Rudolph Valentino was born in Italy (1895 – 1926). His mother was French and his father Italian. A silent film star hit movies were The Four Horsemen of the Apocalypse, Blood and Sand, Moran of the Lady Letty and The Sheik. In Blood and Sand he played bullfighter, Juan Gallardo. He was an icon for his time and known as the "Latin Lover". Ironically, Rudolph Valentino was not Latin. He was Italian born. It did not start with Valentino but in 1600's.
Latin Lover Did It Start with Rudolph Valentino?
In America it started with Rudolph Valentino. During the golden age of silent films. Let us look at other entertainers that are considered "Latin Lovers."
Ramon Novarro
Ramon Novarro was Mexican born. Known as a sex symbol. Heir apparent to Valentino as the "Latin Lover". His greatest success came in 1925 in Ben Hur. His scanty macho costume in the movie caused a heart throbbing sensation.
Febuary 1907-January 1994. Born in New York City his father was Spanish and mother Cuban. During WWII enlisted U.S. Coast Guard. Saw active duty in the Pacific Theater. Played "Latin Lover" in American films from the 1930s to 1950s. Starred as, The Cisco Kid in westerns made between 1939 to 1941. A dramatic actor, comedy actor and dancer. Famous films include: Week-End in Havana, Springtime in the Rockies, The Thin Man, Captain from Castile and Ocean's 11. Television credits include: The Martha Raye Show, Zorro, The Ford Show, Batman, I Love Lucy and Chico and the Man. Socially seen with attractive actresses Cesar Romero, Jr. never married.
Ricardo Montalban
Ricardo Montalban
Born in Mexico City, Mexico in 1920. His career spanned six decades. Radio, theatre, television and film actor. Best known television role Mr. Roarke in Fantasy Island. As a young actor bullfighter in, Fiesta (1947). Lana Turner's Latin paramour in film "Latin Lover". Ricardo Montalban remained a citizen of Mexico until his death 2009. Multi-talented actor.
Andy Garcia
Born in Cuba, April 12, 1956. Hard to keep your eyes off of him. Television and movie star. In first episode TV, "Hill Street Blues" (1981). Stardom in Godfather III (1990) as son of, Sonny Corleone.
Supportive husband in "When a Man Loves a Woman (1994). Ocean 11 (2001) with George Clooney and Brad Pitt. I remember when Ocean 11 was released George Clooney and Brad Pitt were on different "Talk Shows" promoting the film. The discussion came up which guy was the most gorgeous George Clooney or Brad Pitt? In my humble opinion the comparison was with the wrong guys. Personally, I thought Andy Garcia was the most masculine and gorgeous in the film. He portrayed, Spanish Jewish painter "Mogdigliani" (2004). Naming only a few of his various artistic high grossing films.
Antonio Banderas
Born Malaga, Andalucía, Spain 1960. Spanish actor began acting at age 19. Burst onto the American movie scene with Assassins, Evita, and Interview with the Vampire, Philadelphia and the Mask of Zorro.
Julio Iglesis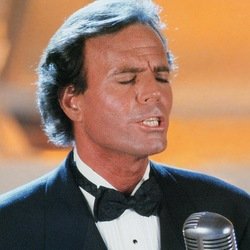 Julio Iglesis born in Madrid, Spain. Has sold over 300 million records worldwide.
Javier Bardem
Born Las Palmas, Spain 1969. Married Penelope Cruz 2010 to present. Javier Bardem is an actor's actor. From a long line Spanish cinema actors and filmmakers. Grandson Spanish actor Rafael Bardem and nephew of Spanish director Juan Antonio Bardem. Javier Bardem is the recipient of a host of acting awards: a Golden Globe, Screen Actors Guild Award, a BAFTA and 2007 won Academy Award Best Supporting Actor in No Country for Old Men. Javier Bardem is not type-casted as only "Latin Lover" but is a multifaceted award winning actor.
Cayetano Rivera
Cayetano Rivera is not a movie star but bullfighter and Giorgio Armani model. From a long line of famous Spanish matadors. He is the son of Francisco River 'Paquirri' and his older brother, Francisco Rivera Ordonez is also a bullfighter. His great-grandfather, Cayetano Ordonez 'Nino de la Palma' was the incentive for the matador in Ernest Hemingway's novel,The Sun Also Rises. His father 'Paquirri' was killed by a bull when Cayetano Rivera was eight years old. In 2007 Rivera was on the cover of Vogue. In 2010 
New face Loewe's men's fragrance, 7
. Loewe based in Madrid, Spain known for luxury clothing and accessories. According to company, Loewe and Cayetano Rivera both share "style, pedigree, beauty and elegance".
Latin Lover Did It Start with Rudolph Valentino? Don Juan  "Latin Lover" phrase began in the 1600s. Attractive, seductive foreign males. This stereotype may have negative connotation for some but it sales in Hollywood, novels, newspapers and online. There must be a unwavering strong female market for "The Latin Lover". Do not fault these actors if they are masculine and gorgeous. It is overlooked that these actors were and are multi-talented. Some were famous actors in radio, television, stage and  movies. Actors, Latin Lover played wide varied roles showcasing their professional artistry. Rivera the matador and fashion model is not type-casted in movies as "Latin Lover" but his elegance and masculine beauty symbolizes the fantasy. Latin Lover Did It Start with Rudolph Valentino? Latin lover did not start in America. No it did not start with Rudolph Valentino's famous films. The phrase started in 1600's.