Every home seller wants to sell their home for the highest possible price. Sell home at a maximum price in the quickest time. Acquiring these goals require professional marketing strategies. Strategies most home sellers are not aware of. Homeowners are not experienced at home selling. Nor are they aware of current selling methods. Making it hard to sell their homes with the stated goals. 6 Home Pricing Folktales Exposed.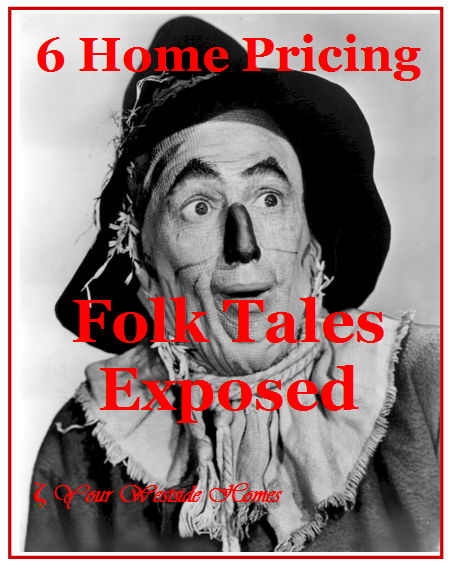 6 Home Pricing Folktales Exposed
The following six folktales are commonly trusted by homeowners. Home sellers do not make the mistake of thinking these tales are true because they are not. These tales are the reason that so many home sellers have not been successful in selling their home. Believing these 6 home pricing folk tales you are setting yourself up for failure.
The first step is hiring a professional real estate agent. An agent that knows your neighborhood, real estate market, and trends. 6 Home Pricing Folktales Exposed.
1. Have Not Had Any Offer But Waiting
Have had only a few showings and no offers. Seller will say, " Holding out for good offer." Seller will assume have all the time to wait and that good offer is coming around. Generally, the opposite will happens. The longer your home is on the market the offers will not get better but worse. When a home is on the market for weeks buyers wonder if something is wrong with the home. Buyers start their home search online. They know when your home came on the market. After weeks and months, they assume the home is overpriced of something is wrong with the home. Dangers of overpriced listing.
Homes sell for most money within 40 days or less. 6 Home Pricing Folk Tales Exposed. When buyers will ask you how long have home been on the market. Buyers feel the longer home on the market there is room for negotiation. That is why it is so important for a seller to initially price their home correctly. It is a sellers myth to think list high. Can always reduce the asking price later. Wrong, Overpriced home typically sell for less than it would have if you had price correctly.
2. Home Priced Too Low Offers Came TOO Quick
Home priced too low got an offer in the first week. This statement is a seller's folktale. Most sellers are happy to have one or multiple offers within the first week. Others may think this home is worth much more than the asking price. Homes with multiple offers have overbids. Means there are offers over the initial asking price. 6 Home Pricing Folktales Exposed.
The home value is set by what the buyer(s) are willing to pay. The moment your home is listed on the market, it will be seen by multiple buyers. Because of housing scarcity, there are buyers just sitting on the fence for a new listing. If your home priced correctly, many of these buyers will be interested immediately. These buyers starting out or shopping for weeks or months. Buyers looking for a home like yours at a competitive price point. They will move quickly.
In the last few years that has been a scarcity of homes for sale in West Los Angeles. Homes priced right in right market and area could get multiple offers. Multiple offers generally guaranty that home will sell over asking price. With the right price in the right market, you could get multiple offers in a very short amount of time.
3. Seller Wants Bonker Marketing to Bring Higher Prices
Listings have to be marketed correctly. Marketing plans: home professionally photographed, online, mailers, advertisement local newspapers and magazines. If home marketed correctly it will fetch the highest sales price. This is true. But bonker marketing is another matter. Some seller with the best intentions feels they know more about real estate marketing than the Realtor. Unique marketing does not mean bonker marketing. Gail, can you run an ad in Chicago Sun-Times? Seller heard from someone people were moving from Chicago to West Los Angeles. Unfortunately, I would not run an ad in Chicago Sun-Times. Homebuyer starts their search online. They focus on the neighborhoods of interest. Wise marketing cast a wide net to a certain area in the United States. 6 Home Pricing Folktales Exposed.
Marketing is about maximum visibility and expose. Attracting a well-qualified buyer. Marketing displays your home at its best and encourages buyers to schedule a viewing appointment. A buyer that loves your home and can envision themselves living in your home. The value of your home has nothing to do with outside the box real estate marketing. Marketing is all about visibility and attracting the right kind of buyer. With an effective marketing plan, your home listing will find its way in front of thousands of well-qualified buyers.
4. We Just Need The Right Buyer
"I am just waiting for the right buyer." Another seller folktale in selling a home. If I wait long enough the right buyer will come along. Fat chance!
The longer a home is on the market the value in the buyer's mind decreases. Finding that one in a million buyer is highly unlikely. Buyers and their real estate agents know the market. Chances of them offering on an overpriced listing at asking price is unlikely. The reality is if they make an offer it will be below the asking price.
Lenders require an appraisal determining the value of a home. This ensures that the bank is protected. If buyers willing to purchase an overpriced home the lender will deny loan due to the home's price.
5. Want Room for Negotiation. Priced Home Too High.
If your home is overpriced and there are NO offers there are nothing to negotiate.
6. Zillow Says It's Worth More. The seller cannot believe real estate agent's market analysis. Because Zillow thinks your home is worth X. Zillow is a wonderful company. Zillow is a wonderful site for looking for homes and design idea. But Zillow is not a local, profession Realtor that knows your neighborhood market and trends.The real estate agent comes equipped with recent comparable, comparisons of like homes and visual inspection of your home. The facts are that Zillow's home value tend not to be accurate. I have seen value vary from $85,000.00 above or below actual value. Zillow is computerized. Real estate agents are humans. Depend on home values for your real estate agent. 6 Home Pricing Folktales Exposed.
Conclusion
Pricing your home correctly is a skill. Pricing your home is based on recent sales within 1/2 mile from your home. The price is the most important element when selling a home. If the home is overpriced nothing that you or your Realtor does will make any difference. This included excellent marketing. 80% of marketing is correct pricing. Attract the right buyers. Get your home sold quickly and efficiently. 6 Home Pricing Folktales Exposed.