Best Public Gardens In Los Angeles CA
Gail Mercedes Cole - Article to Share provided CBS Los Angeles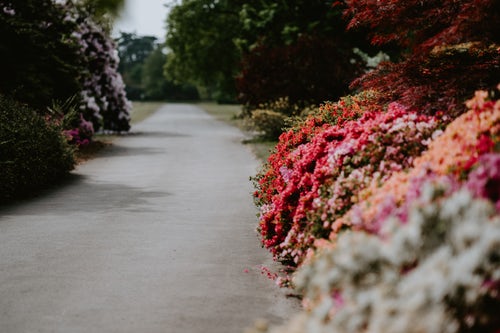 Let's face it: sometimes you just need some tranquility. This is a good time to visit one of Southern California's spectacular public gardens, where you can take a stroll among some of the most plush and beautiful scenery anywhere in Los Angeles. Many of these gorgeous public spaces were originally the private estates of the region's wealthiest individuals and have since become open to all to enjoy.

Huntington Library, Art Collection and Botanical Gardens
1151 Oxford Rd
San Marino, CA
(626) 405-2100
www.huntington.orgOne of Los Angeles' oldest public gardens set on the former estate of Henry E. Huntington, whose uncle Collis was one of the founders of the Southern Pacific Railroad. Featuring 120 landscaped acres with 12 gardens and 15,000 plant varieties, it's no wonder why this continues to be one of the most visited gardens in the world. Among the best gardens on the property are The Desert Garden, which is one the largest outdoor collections of cacti and succulents in the world, as well as The Rose Garden, with more than 1,400 different cultivars, and the Herb Garden. Aside from the beautiful gardens, the property is home to the Huntingtons' priceless collections of art and rare books which is also on display through the museum.
Descanso Gardens
1418 Descanso Drive
La Canada-Flintridge, CA 91011
(818) 949-4200
ww.descansogardens.orgSet on 160 acres, The Descanso Gardens are one of Los Angeles' most cherished places and offer a beautiful selection of plant species and wildlife. The Descanso Gardens feature several gardens within the property to take a stroll in including Center Cirle, the Rose Garden, the Japanese Garden, Oak Forest and others. Offering beautiful landscapes, you'll want to make sure to wander through their newer Oak Woodland garden, which features native plants, a Japanese garden, a rose garden and the California Natives Garden. After taking in beautiful scenery, touring the historic Boddy House is a must, as well as the art exhibits at the Sturt Haaga Gallery.

LA Arboretum and Botanic Garden
301 N Baldwin Ave
Arcadia, CA
(626) 821-3222
www.arboretum.orgNestled in the hills near the San Gabriel Mountains lies Los Angeles' premiere Arboretum and Botanic Garden set on 127 acres of pristine and beautiful land. The Arboretum, another LA county park that originated from a wealthy family's estate, offers plant collections including rare and endangered species from around the globe. In addition to plants and flowers, historical landmarks dot the property including Native American, Rancho Period and late 19th century masterpieces such as the famous Queen Anne Cottage seen in TV shows and movies, as well as the Santa Anita Train Depot and much more. Stroll the pristine and tranquil paths that run through the property and take in the Mayberg waterfall, ponds, fountains and other themed gardens. Throughout the year, the LA County Arboretum and Botanic Garden offers a great selection of culturally rich activities including nature and gardening classes, concerts
, and more.

South Coast Botanic Garden
26300 Crenshaw Blvd
Palos Verdes Peninsula, CA 90274
(310) 544-6815
www.southcoastbotanicgarden.orgFeaturing over 2,500 plant species on 87 acres, The South Coast Botanic Garden is bursting with color and wildlife. Find everything from roses, cactus, geraniums and more, as well as everything from butterflies to birds. The garden also plays host to a variety of events including atleast 12 flower shows, lectures, classes, concerts, weddings, and even Shakespeare. Spring is undoubtedly a great time to visit, as an abundance of plant and wildlife activity come out in a beautiful display.

Exposition Park Rose Garden
701 State Dr
Los Angeles, CA 90037
(213) 763-0114
www.laparks.orgSituated in Exposition Park next to USC's Coliseum and across the street from the California Science Center, Exposition Park's Rose Garden is one of Los Angeles' best public gardens. A busy spot where you'll find everything from USC students to those looking for a wedding photo, the rose garden's here have been operated by the LA City Department of Recreation and Parks since 1928. Visited by hundreds of visitors each year, it's often described as an oasis within the urban jungle of Los Angeles, offering a quiet refuge for many.
Provided Los Angeles CBS Local