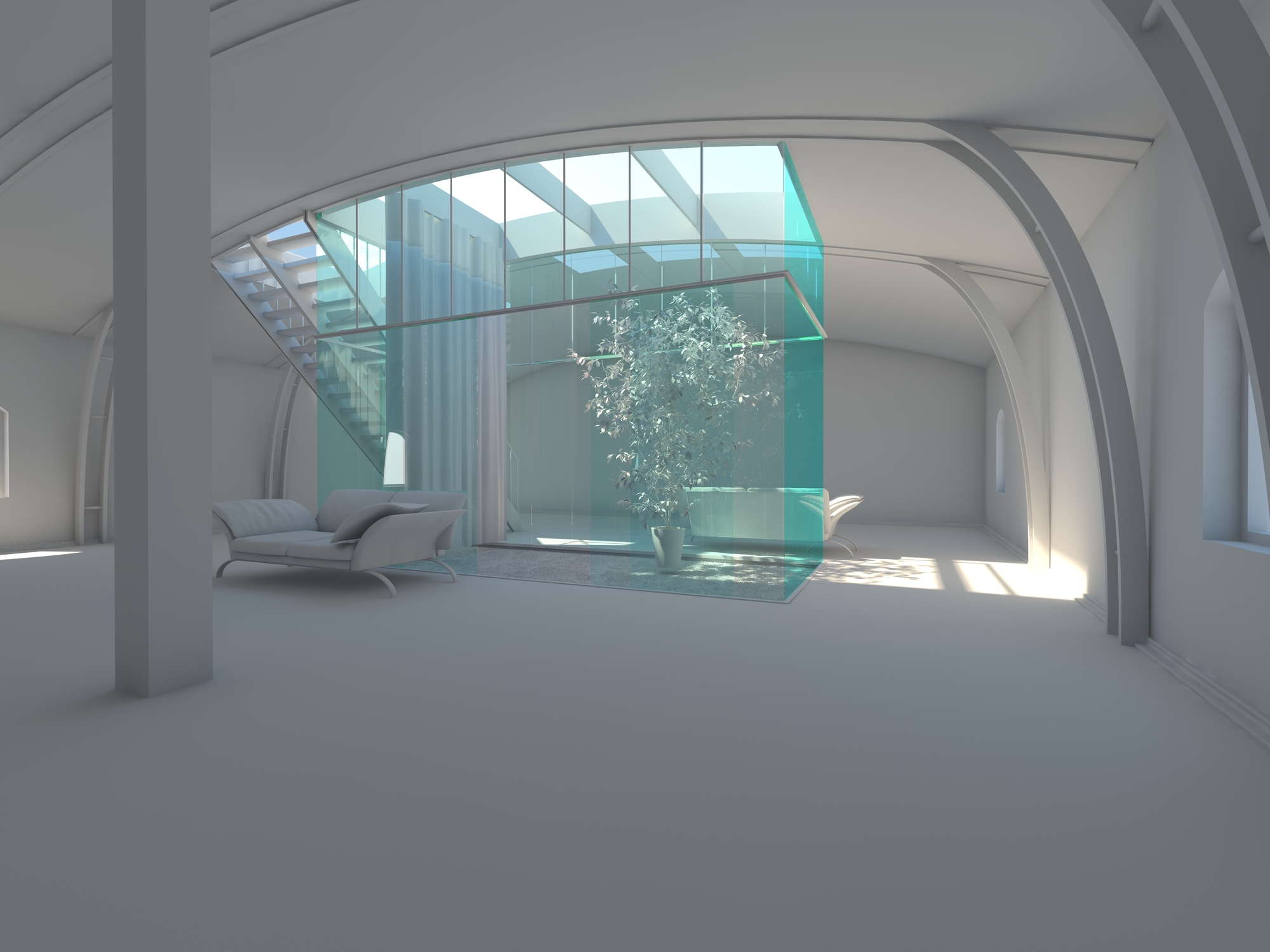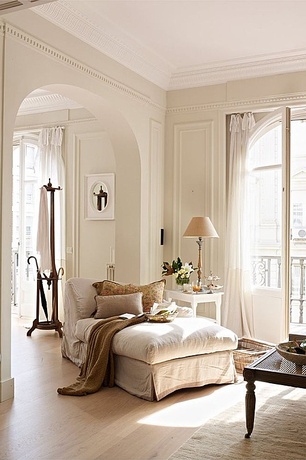 Westside Homes Staging Ideas Sellers stage your home before placing it on the market. Home staging reaps homeowners maximum profit. Home staging can be Do-It-Yourself or call a professional. When staging a home it does not matter if a single family home, condominium, loft or residential income property. Where would movies and plays be if they were not professionally staged? Entertainment companies invest millions in staging to reap the highest return on their investment. Your home is your major investment. Invest the time and money in staging your home to reap the highest sales price. Home staging can be extensive or it may just be a matter of a good clean up, removing clutter, coats of paints, new fixtures in bathrooms and kitchen, yard maintenance, and adding plants. Thinking of selling your home? Do It Yourself Home Staging Ideas. Let us put our heads together and exchange staging ideas that will reap you and your family maximum profits when selling.Call GAIL MERCEDES COLE (310) 853-9933.
Keep the 3 C's in mind.The three C's are simple: Clean, No Clutter (no clutter) and Color. Staging yourself takes a little elbow grease but will pay-off in the resale of your home. Many buyers make their decision to purchase at first sight. Check your rooms may want to brighten up with a new coat of paint. Check bedding in bedrooms, rugs, and towels in bathrooms. Consider neutral or stylish colored fresh linen and towels. Clean and vacuum carpet. Buff up your hardwood floors. Pillows, furniture shawls, and fresh flowers add individual charm to rooms. Fresh flowers are always a bonus. If the home is listed show prospective buyers with lights on and or drapes drawn. Nothing is worse than buyers viewing a dark room. Little things mean a lot. Owner-occupied single-family homeowners have more control with staging than an owner of a residential investment property (2-4 units). All owner can control the exterior appearance of their properties. Lawns and landscaping should be well kept. Remove clutter and trash from the exterior. The exterior may not need a complete paint job but check trimming for touch-ups. Approach repairs and or replacements as an investment in your home. Sprucing up your property may result in a better selling price and a shorter listing period. Sellers may pick-up one or many creative staging ideas. Do It Yourself Home Staging Ideas
Inexpensive Home Staging Ideas
Fresh new bedding (sheets, pillows, and bedspreads) in each bedroom. Can add throw pillows
New towels and bathroom rugs in each bathroom
Fresh plants and flowers in living room, family room, dining, bedroom, and baths
Tasteful placement of candles, vases, potpourri, flower arrangement in rooms of choice.
Windows should be clean smudge free. New window treatments do wonder.
Replace medicine cabinets, fixtures and towel rails in bathrooms. No leaky toilets or faucets.
Think about the bed, chair or couch shawls.
Clean Clutter-Free Interior
Clean Clutter-Free Exterior including Garage
Do-It-Yourself Home Staging
Interior Home Staging Ideas
Every room in the house should be thoroughly cleaned and remove all clutter.
Touch ups may include cleaning or replacing carpet window treatments, and paint.
Hardwood floors should be in clean and in good condition.
Repair loose boards.
Many buyers purchase for more space. Give your rooms a sleeker look.
You may want to rearrange or remove some furniture.
Unclutter shelves, tables and etc..
Clean kitchen counters and leave only a few attractive items on the counter.
Additionally, clean cabinets, appliances, and kitchen fixtures.
Replace or repair loose cabinet hardware.
Fix leaks in ceilings, walls, plumbing, and etc.
Address the cause of the leak.
Replace worn kitchen countertops with new, clean, neutral colored materials.
Replace worn outdated vinyl flooring.
Clean ceramic tiles and re-grout if necessary.
Make sure all appliances are clean and in working order.
Replace all burned-out light bulbs and cracked windowpanes.
Clean all light fixtures and ceiling fans.
Exterior
Buyers react well to signs your home has been well maintained.
Manicured landscaping: mow, edge and water lawns, trimmed hedges.
Fertilized flowerbeds, and prune trees.
Keep driveways clean and free of parked cars and keep the garage door closed.
Repair/replace damaged or missing shingles.
Minimize cracks in walkways, walls, and steps.
Keep clear of objects like toys.
Waste cans should be kept out of sight.
Windows and screens should be clean and not damaged.
Inspect the appearance of interior window treatments from the curb.
Repair any peeling paint or loose caulking on windows, doors or other areas.
Pick up after your pets.
The yard should be manicured and green.
Bright flowers always add to the appearance of any home.
The First Impression is a Lasting Impression.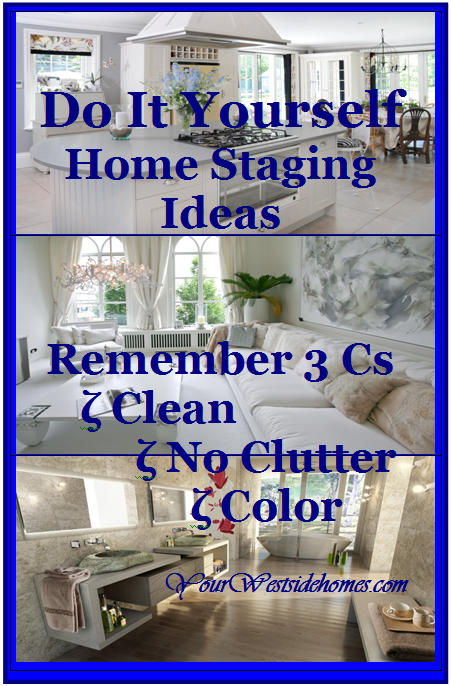 Home staging ideas Your Westside Homes. The first impression of your home is the exterior. Give your home curb-side appeal. Well maintained landscaping and inviting entry. DIY staging home ideas. These staging ideas apply to residences homeowners. DIY Sellers can stage their home tastefully and inexpensively. Plan your staging and compare items needed at different retail stores. Keep in mind that you want your home to be appealing to the general buying market. Some homeowners may prefer a professional stager. Or Do It Yourself Home Staging Ideas. Remember 3 Cs (Clean, No Clutter, Color). Doing it yourself takes elbow-grease. Clean home interior from top to bottom. The exterior should be clutter free and manicured landscaping. Purchase new items for the home. Examples: bedding, towels, fixtures, pillows, vases, fresh flowers and etc. Organization and rearrangement of furniture. Arrange furniture making room more spacious. The reward tasteful staging is a higher sales price. SellerTake the Time Reap the Profits.