Home Buyers avoid home buyer pitfalls. There is so much buyer's information. Various sources vying for your business. There are online services, printed advertisement, Open Houses, word of mouth, friends, and family members. Buyers feel empowered with all of the information. Just a minute home buyers. There are home buyer pitfalls. Buyers empower yourself. What are you looking for in a home? Prioritize your goals. Home Buyers Pitfalls Westside Homes.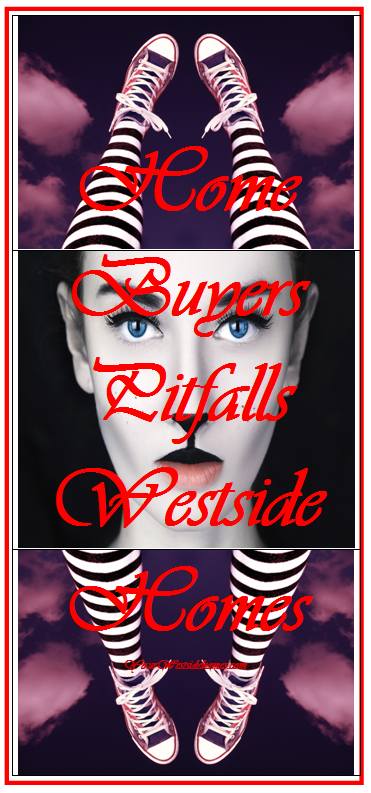 Enlisted a real estate agent that is an ally. A seasoned real estate agent is the real estate expert. Online services like Zillow, Trulia, friends, and family are fine. But do they really know the neighborhood? Do they know current market values? Do they know the market forecasts? The wisest decision is for the buyer contacting an expert Realtor®. Contact expert local Realtor®. Westside Homes Buyers Pitfalls.
Home Buyers Pitfalls Westside Homes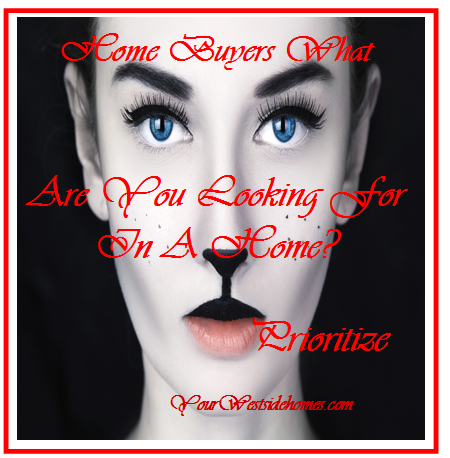 Buyers have to decide if they want a condominium, single family home or residential income property.
How many bedrooms and bathrooms do you want?
Needed living space or square footage?
Lot size?
Are you looking for a home with a swimming pool?
How many car spaces (garage or subterranean)?
If looking for condominium what is your HOA fee maximum?
Will your children attend private or public schools?
If public school what are the school rating in the area?
Are you looking for a fixer-up, home in standard condition or updated home? Many times buyers want a fixer-upper. Reasons being a lesser sales price. This can and cannot be true. When searching fixer-upper considers actual costs for repair replacements. The reality is that at times repair replacement costs plus sales price may equal sales price home of a totally renovated. A good rule of thumb sales price plus repair replacement should total 90% of completed value.
When searching for home compare current sales prices of fixers, standard and renovated homes.
Are you looking for newer construction? Some buyers only want newer construction. Playa Vista Silicon Beach is the newest PUD in West Los Angeles within the last 10 years.
Lifestyle. When buyers purchase they are purchasing a lifestyle. What type of lifestyle do you want? West Los Angeles and Beach Cities offer varied lifestyles. Are you looking for a family neighborhood? Or are you considering a beach city? West Los Angeles beach cities are Marina Del Rey, Venice Beach, Playa Del Rey and Santa Monica CA.
Buyer do you want safety?
Do you want good public schools?
Do you want walkability?
Buyers tend to want a home close to work, schools, parks, shopping centers and entertainment.
Close to freeways?
Home Buyers What Can You Afford? Get Pre-Approval from Direct Lender
Buyers before starting home search contact direct mortgage lender. Get mortgage loan-approval. The pre-approval empowers the prospective home buyer. Why start looking in a neighborhood that you cannot afford? The loan approval verifies down payment, income, expenses, and FICO scores. A direct lender will issue a pre-approval letter stating buyer's maximum mortgage loan amount and FICO score. Now the buyer has a realist view of what they can afford. Areas have varied price ranges. Home values in Beverly Hills are more expensive than Culver City, CA. Pre-approval will make you aware of what areas you can afford. Home Buyers Pitfalls Westside Homes. Why waste time searching in an area you cannot afford? When presenting offer NO seller will consider an offer without buyer's loan pre-approval.
Home Buyers Be Realistic
Home Buyers Pitfalls Westside Homes. What is your mortgage pre-approval amount? Based on pre-approval a few buyers may be able to find everything they are looking for in a home. The majority of home buyers will have to be flexible. Somethings will have to be eliminated. Buyers will have to prioritize. Concentrate on top priority items. Examples are bedrooms, bathrooms, living space, safety, schools and etc. Each neighborhood has its own price range. Choose an affordable neighborhood for your search. You may want a four-bedroom home. But a three bedroom home may be more affordable. Your ideal home maybe 15 minutes from work.But the home you love is 28 minutes for your office. Wanted an updated kitchen but this home has a standard kitchen. These are challenges that can be overcome. Find the ideal home in your price range. Again be flexible.
Home Buyers Choosing the Right Real Estate Agent
Prospective buyers are bombarded with online real estate information. There are Zillow, Trulia, Realtor.com and etc. Can find an agent with these online services. Are these agents really experts in your neighborhood of interest? Agents on Zillow and Trulia pay a monthly fee to be featured. Any agent can pay the fee. Paying a fee does not make the real estate agent an expert in the area. Home Buyers Pitfalls Westside Homes.
Contact a local neighborhood expert. A local agent that will sit down with you and review your buyer requirements. Become aware of qualifying neighborhoods. Receive a daily update of current listings and sales. Know the actual home values in these neighborhoods. Real estate values fluctuate. Have an idea of current market conditions. Is the market appreciating, stable or depreciating? Work with an agent that has the most insight about the neighborhood.
Home Buyers What Are You Looking For In A Home? Prioritize…..
Conclusion
Home Buyers Pitfalls Westside Homes. Purchasing a home is an exciting experience but has pitfalls. The biggest pitfall is not being educated. An educated home buyer realizes these pitfalls are challenges. Challenges mastered for a successful informed home purchase. Buyers start out first by getting a pre-approval. With pre-approval, buyers know their purchasing power. Buyers have their bucket list of things they want in a home. Many buyers may have to be flexible. Prioritize exactly what you require. Examples: neighborhoods, schools, home living space. Are you looking for a home or condominium? Stay within your budget. Hire a real estate professional. Gain a powerful ally when buying your home. Call Gail Mercedes Cole (310) 853-9933