Marina Del Rey home buyers what are your goals? Buyers purchasing a home is a lifetime dream come true. Home purchasing can be stressful. Conversely, home buying is an exciting lifetime dream come true. Marina Del Rey Home Buyers Define Goals. Why purchase a home or condominium in Marina Del Rey?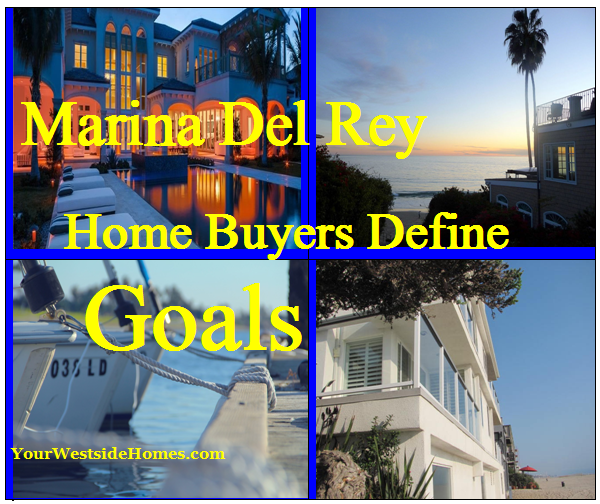 What are your motivations? Are you downsizing, changing lifestyles, want seaside community? Seasoned and first-time buyers flock to Marina Del Rey, CA.West Los Angeles seaside city. An active city with Mediterranean near round weather. The city is less than two square miles condominium dense. There are inland, seaside and Marina adjacent homes, high and low rise condominiums, townhouses and lofts.There are four high-rise condominium complexes. These are Marina City Club, Azzurra, Cove and Regatta Seaside Residences. All full service offering city, marina and or ocean views. Townhouses offer private patios and attached garages. The Art District offers newer condominiums, townhouses, and lofts. Seaside and canal side condominiums are the Silver Strand and Peninsula. There are single family homes in Marina Del Rey CA. These homes are built from the turn of 20th Century to present. Locations are inland and seaside. Marina Del Rey Home Buyers define goals. Are you looking for a condominium or single family home? Silicon Beach partner with Venice CA, Santa Monica CA and Playa Vista. West L.A. location adjacent to Playa Vista, Playa Del Rey and Venice CA. Near LAX, freeway, upscale shopping centers, restaurants, beaches and entertainment. Marina Del Rey is approximately 20 to 30 minutes from Beverly Hills and downtown Los Angeles.
Reasons to Purchase Home in Marina Del Rey CA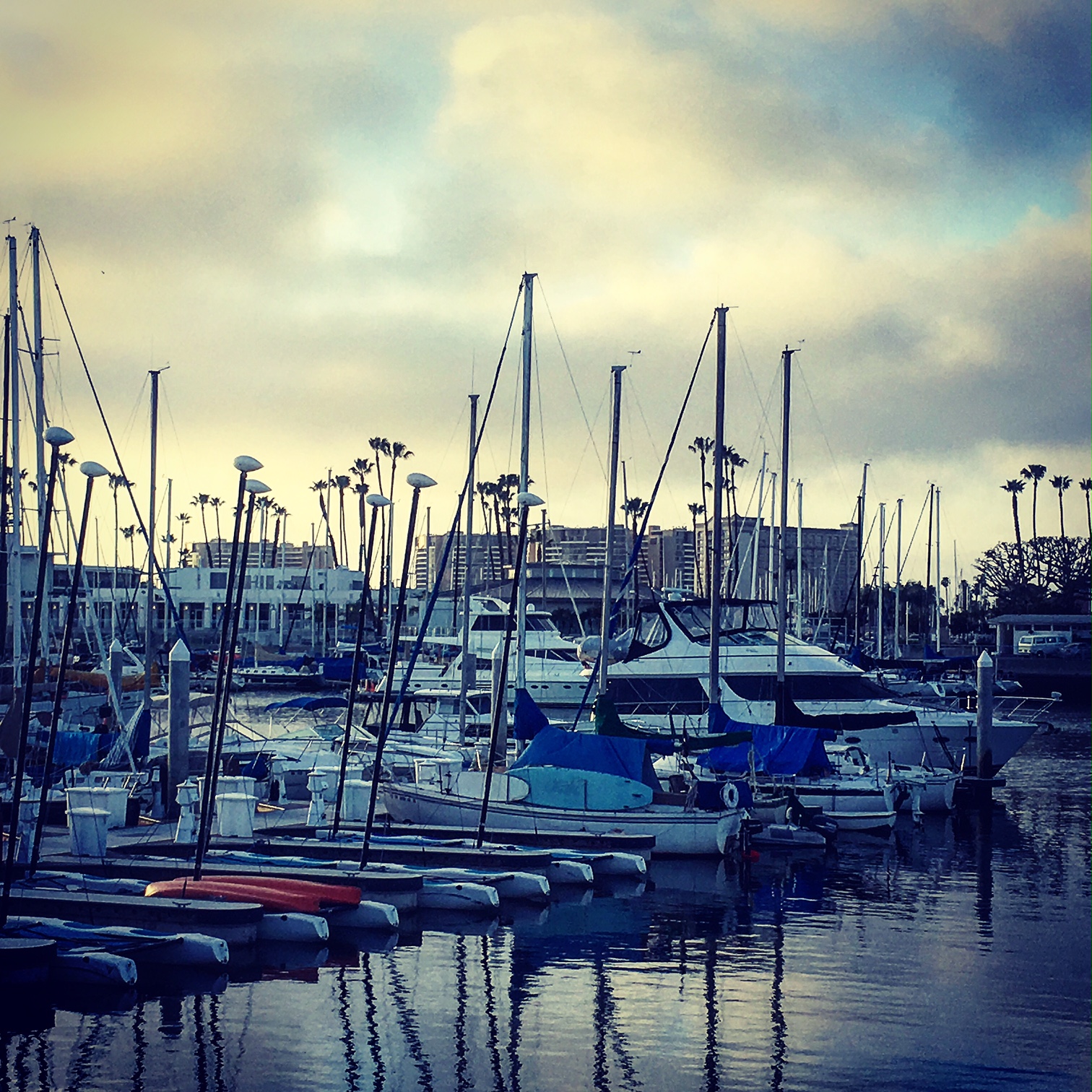 Current home too small
Current home too large
Want Newer Construction
Deferred Maintenance in the current home.
Want newer condominium, townhouse, loft or single family home.
Condominium Homeowner Association cares for exterior maintenance.
Want Plan Unit Development with amenities. Amenities include 24-hour security, pools, spas, recreation rooms, tennis, racquetball, concierge, valet.
Want high-rise full-service condominium with ocean, marina and or city views.
Want low rise or mid rise condominium.
Want townhouse with private patio and attached garage.
Security – Want 24 hour secured complex.
Want beach city single family home.
Job Transfer
Empty Nester
Retirement
Change in Personal Relationship
Marriage
New Baby
Growing Family
Divorce
Move closer to family
School District
Walk Ability walking distance to beaches, parks, retail shops, restaurants, bank, fitness, salons, market, movies, recreation activities and more
Want Beach Cities
Want seaside home
Change in Lifestyle
Call Experienced Local Realtor®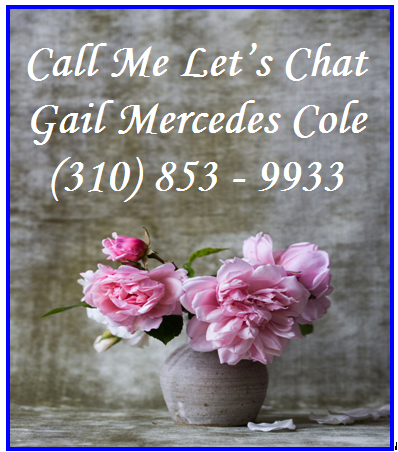 Marina Del Rey Home Buyers Define Goals. There are factors that will determine your decision to purchase in Marina Del Rey CA. It is important to have available resources. Making a well-informed home buying decision. As well as the time required to make complete use of resources. Therefore, enlist the help of a trusted REALTOR®. Gail Mercedes Cole who will provide you with expert consultation. I will be there every step of the way in your home buying process.There are several steps that your REALTOR® will assist you in your home buying experience.
The first step in the process is being Pre-Approved from Direct Lender providing best rates and terms
Become knowledgeable of neighborhood's real estate market data.
Daily MLS active listings.
Knowledge of recent sales in Marina Del Rey.
Scheduling property showings
Purchase agreement
Expert Negotiation Skills
Professional home inspection
Title and escrow processing
Realtor® educates and prepares you for the excitement of buying a new home in Marina Del Rey CA. The first step is Marina Del Rey Home Buyers Define Goals. Buyer's defined goals. List and prioritize your goals. Your wishlist will keep you focused. The list will help your REALTOR® do his/her job more efficiently. Realistic buyer goals save time in the buying process.
Contact Mortgage Lender
Contact a lender to review your financial status. Buyers can be Pre-Qualified over the phone or personally. Either way, feel free to contact me for a list of highly qualified direct lenders. They will guide you through the lending process. Be realistic about loan qualification amount. If you qualify for the sales price of $800,000.00 this will determine the type of home you purchase. Single-family homes are more expensive than condominiums and townhouses. Remember condominiums have monthly homeowner association fees. Examine your current financial situation accurately. Project how much you can afford. Or the amount that you want to invest. Marina Del Rey Home Buyers Define Goals. After pre-qualified buyer will have a realistic view of their home purchasing power.
Conclusion
Marina Del Rey Home Buyers Define Goals. The first step is getting pre-approved. Mortgage pre-approval should be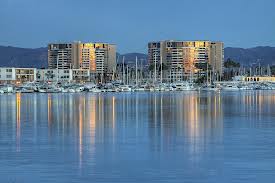 from a direct lender. Then you will be aware of your home purchasing power. Marina Del Rey home buyers define goals. Write down your goals based on affordability. Are you interested in a condominium, townhouse, loft or single family home? Would you like an inland, marina side or seaside home? Which will you consider a low or high-rise condo? Then prioritize your goals. What is your top priority? What goals are flexible? Pricing, locations and living space varies. Marina Del Rey the ultimate is urban seaside living. Call GAIL MERCEDES COLE, REALTOR® (310) 853-9933. I can assist you every step of the way. Purchasing a home can be an exciting experience. Marina Del Rey Home Buyers Define Goals. Buyers purchasing a home is a lifetime investment. Home purchasing can be stressful. Conversely, owning a home in Marina Del Rey is the ultimate lifestyle. Now Marina Del Rey Home Buyers Define Goals
More Resources
12 Tips Buying Condominium Complete Guide
Buying Condominium vs Buying Single Family Home Pros Cons