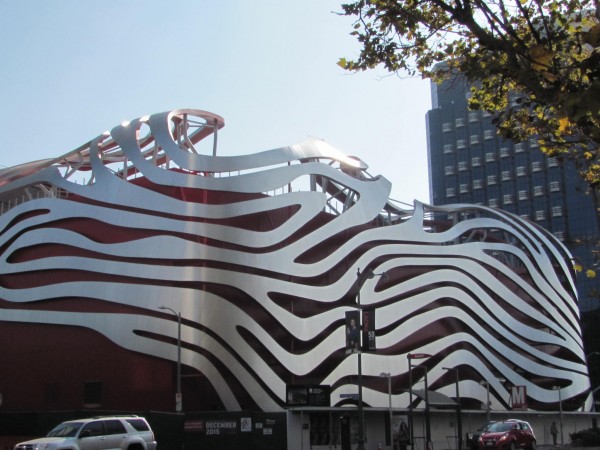 Petersen Automotive Museum
6060 Wilshire Blvd.
L.A., CA 90036
323-930-2277
Petersen Automotive Museum has planned a complete redesign. Kohn Pedersen Fox Associates are designers of the new look. Additionally, adding 15,000 square feet of galleries. A 21st-century design featuring: state-art-lighting, learning stations, and digital displays. Stations and galleries highlighting people and machines that technology changed the world. The museum will include historically classical American and European classical, hotrods, racing cars and alternative fuel technology cars. Included in redesign will be a restaurant and patio area.
Petersen Automotive Museum was founded by Robert and Margie Petersen in 1994. Previously, the Ohrbach's department store. One of the world's largest automobile museums located in Miracle Mile, L.A., Ca 90036. Expert museum in automobile history and educational programs. It is hard to think that Robert and Margie Petersen would have envisioned this new futuristic design of stainless steel ribbon wrapping around three sides of a deep red building. In the evening building will be interiorly lit accentuating corner lot structure. The building will be a landmark beacon in Miracle Mile.
Petersen Museum Futuristic Design
Petersen Automobile Museum Blog
WOW, I love L.A. This futuristic design will be a landmark beacon at Fairfax Ave and Wilshire Boulevard. Miracle Mile Museum Row. Pictures speak a thousand words.